Akebono in Figures
Akebono 2016 - the Akebono Group Today
Akebono was founded as a dedicated automotive brake manufacturer.
Here we introduce Akebono's current status in figures as it works to expand its business scale and global operations.
Since our foundation in 1929, we have provided safety and reliability in numerous fields
Over its 87-year history, Akebono has leveraged technologies cultivated in the automotive brake field for numerous applications, including motorcycles, rolling stock, and industrial machinery. We have also drawn on vibration analysis technologies to develop and manufacture sensor products.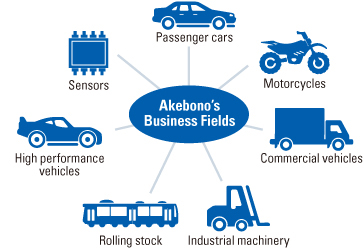 Highest net sales since our foundation
With business expansion and increased production in overseas markets, we have achieved record net sales.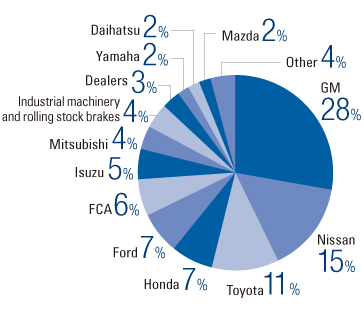 Expansion mainly in North America. Europe and Asia follow
Akebono has been expanding its business in Japan, North America, Europe, and Asia, with a view to establishing a global network. In fiscal 2015 our overseas sales ratio exceeded 70%.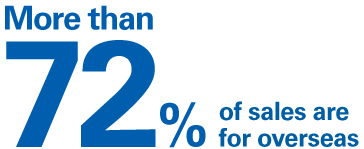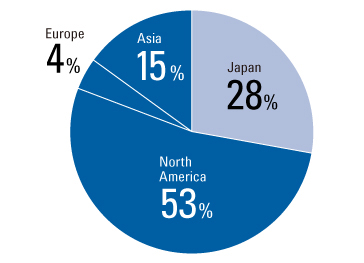 One in every five vehicles worldwide have brake pads made by Akebono
Various auto manufacturers in Japan and overseas use Akebono products. As for brake pads, we have a global market share of approximately 20% and a domestic market share of approximately 43%*2
*1 Equipped on new vehicles
*2 Akebono research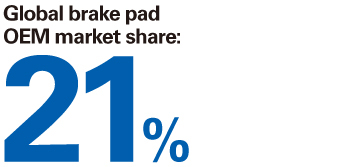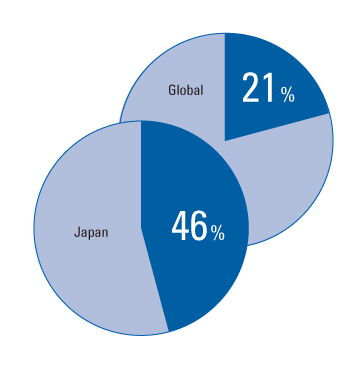 Business operations in 13 countries
Akebono employs 9,238 people around the world. We are developing global human resources as a truly global company.