Akebono 2017
Here we introduce Akebono's current status in figures as it works to expand globally as a comprehensive brake manufacturer
Small, specialized, independent manufacturing company
We are leveraging our unique position in Japan and overseas as a "small, specialized, independent manufacturing company."

Leveraging technologies cultivated in the automotive brake field in a wide array of fields
Developed on the principle of "Through 'Friction and Vibration, their Control and Analysis,' Akebono's products are used in a wide array of fields, including passenger cars, commercial vehicles, motorcycles, rolling stock, and industrial machinery.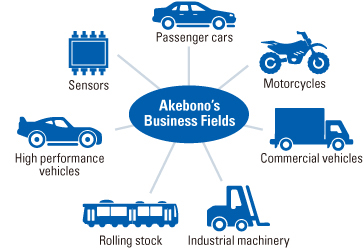 Responding to the various needs of automakers
Various manufacturers in Japan and around the world use products made by Akebono as an independent, comprehensive brake manufacturer.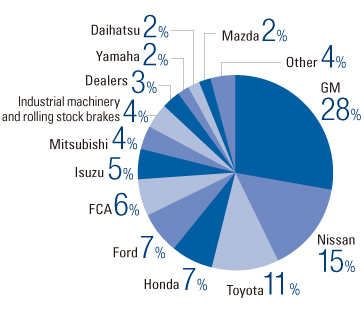 Expansion mainly in North America, Europe, and Asia
Akebono has been leveraging its global network to expand business in Japan, North America, Europe, and Asia. Since fiscal 2015 our overseas sales ratio has exceeded 70%.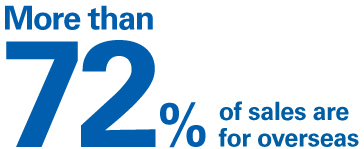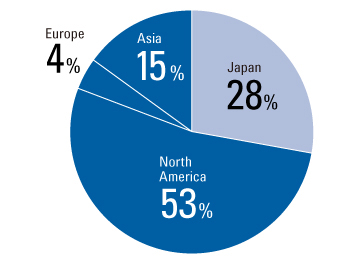 One in every five vehicles worldwide have brake pads made by Akebono
For our mainstay product, brake pads, we have a global market share of approximately 21% and a Japanese market share of approximately 46%*.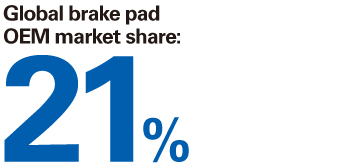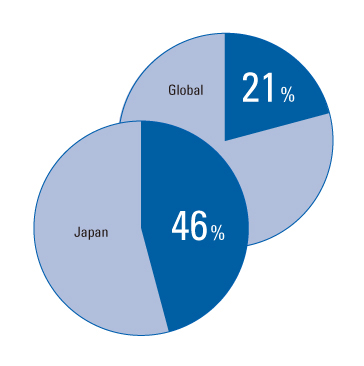 Business operations at 25 bases in 12 countries
Akebono employs 9,457 people around the world. We are developing global human resources as a truly global company.