Misako Imai
Joined Akebono in 2001
Section Manager Section 1,
Engineering Department Electric Brake Business Division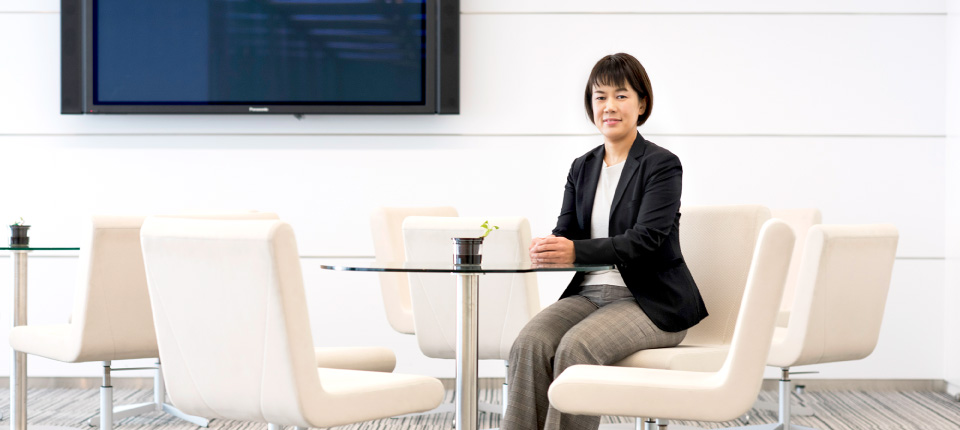 Our Goal to Mass-Produce Electric Parking Brakes
I have always been interested in vehicles and robots since I was young. I grew up around cars in particular, and developed a strong interest in them. Cars are made of more than 20,000 parts, but I believe brakes are arguably the most important parts, controlling vehicle safety and comfort. Akebono doesn't just manufacture brake calipers (brake mechanism) and brake pads (friction material), but also develops entire braking systems across different fields of research and development. I decided to join the company for this reason.
After entering the company, I was initially working within the sensor development department developing sensor control systems to detect and prevent vehicles from skidding. Although I studied mechanical and control engineering at university, I only first learned about electrical circuits and electronics after joining the company under the mentorship of my supervisors. Through my role, I was able experience a wide range of fields from general research and development to supporting product quality management activities. Receiving positive feedback directly from production managers related to the products I helped develop was extremely rewarding. At the moment, I am currently involved with the development of Electric Parking Brakes working towards the goal of developing the capability to mass-produce them for customers. Working in the manufacturing industry, it's exhilarating to see technology you helped develop used in vehicles before your eyes. Despite developing products that people don't often directly see or notice, I always feel a sense of pride telling friends about how I helped create these vital parts.


Promoting Diversity at Akebono
From June, 2015, the Diversity Implementation Office was established consisting of both technical and non-technical female associates. Diversity relates to the importance of having mutual respect for all individuals regardless of differences such as gender, race or age; and creating a workplace where everyone is welcome. One of our first steps was to pursue diversity training programs and investigating issues faced by female associates at Akebono. We considered ways in which we can create a supportive workplace that is more flexible for women who all have differing private and work responsibilities. I, too, was someone who benefited from flexible work policies, as I experienced giving birth to a child after entering the Diversity Implementation Office, and am currently continuing my role as a section manager while I raise a child. As a working mother, there are restrictions on how long I can be at work, but I proposed the use of various forms of technology (eg. shared calendars, Skype, etc.) to maintain necessary team communication and have been able to continue working at a normal capacity. My experience has become just one example of many in the implementation of diversity policies at Akebono, as Akebono continues to pursue new initiatives to create a better workplace for everyone.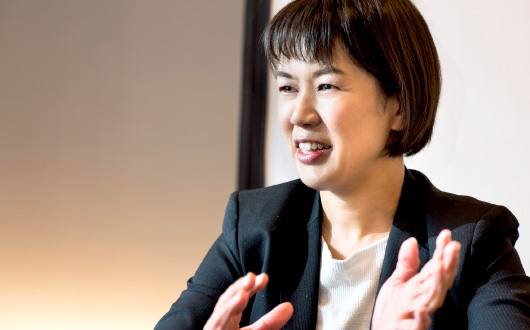 A Company That Challenges You
I think Akebono is an interesting company that provides various challenges for its associates. Particularly for young associates, there are always opportunities to challenge yourself and grow. In my second year at Akebono, I was invited to participate in a company-wide team project known as 'Workout'. The project involved carrying out Kaizen activities outside of our workplaces in line with Akebono's Corporate Mission. Not only were we able to take on various challenges and tasks that were completely new to us, but also develop a new network within the company. Through this project, we also had the opportunity to get involved with some of Akebono's exciting areas of business such as Formula 1 and Motorsport.
Although I personally didn't have the opportunity to work on Motorsport activities, having seen the incredible technology being developed at Akebono and working with colleagues who are at the top of their field conducting world-class research, I am inspired in my own role and proud to be a member of Akebono.



Create Your Own Opportunities
When we're young, we often let a lot of chances go by. I think it takes courage to take a step forward and take on something new. When I was promoted to management, my superior told me, "Opportunity comes for those who seek it. People who actively look for new opportunities are often the ones who grow the most. And if you are given a chance to try something new, take it on. You never know what you might learn, and where that chance will take you. Be passionate to learn new things." These words had a profound impact on me, and something I always keep in mind. New opportunities may not always simply be available, but those who actively seek them will find them. So, when you are given a chance to try something new, take it on and challenge yourself.