On April 1st, 2016 Akebono Brake received recognition (also known as the Eru Boshi Designation) as a General Business Owner Complying with the Standard based on the Act for Promoting the Advancement of Women and the company received the top rank of Grade 3 within the system.
Akebono has various support systems
to help our female associates with their careers and to balance work and family.
The work environment where all associates
can work actively is the moving force supporting Akebono's growth.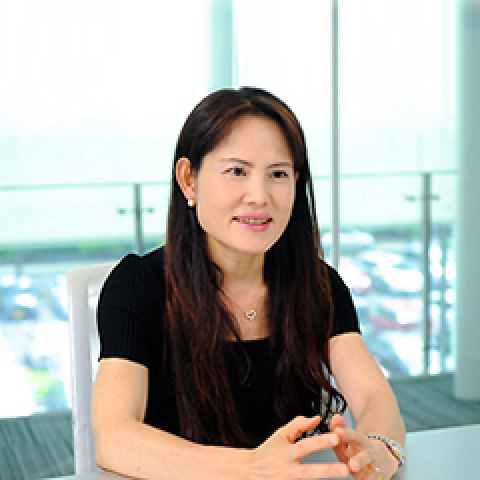 Head of the HR Group
Ryoko Maejo
Although the automotive industry has a strong masculine image, Akebono does not regard gender or nationality etc. for recruitment.
We offer a variety of systems to support a balance between home and work, thus creating an environment where you can design your career while maintaining a good work-life balance.
Opportunities are given equally to every associate regardless of their gender or circumstances, and this working environment becomes the driving force supporting Akebono's growth. I'd be very glad to see all of our associates fulfill their dreams through working at Akebono.
Career support for female associates
Due to rapidly continuing globalization, our business environment is facing great changes. Even Akebono's overseas sale ratio has surpassed 60%, and we are promoting diversity in order to reach true globalization.
We have also introduced the Career Partner System, shortened working hours, and the Flextime system among others to ensure a flexible work style for our female associates. Through support for balancing childcare with work, we also support our associates' future careers at Akebono.
This is the time for a female perspective
The perspective of "cars=men" is strong at the automotive industry. However, it's a wrong assumption to think that women cannot work in the industry. Studies have shown that when families buy cars, in around 60% of the cases, the one making the final decision is a woman. A female perspective is essential for understanding the market better.
We want you to fulfill your dreams at Akebono
It's not only women, we want all our associates to keep a work-life balance, and by displaying each associate's personality, not only fulfill their career dreams but also happily enjoy each life stage.
The people we look for can relate with Akebono's operations and corporate mission supporting safety and peace of mind, and will join us in mutual improvement.
I believe that if you are a person who can cooperate with your surroundings while keeping true to your own opinion, who can take challenges and who enjoys welcoming diversity, you will be able to work actively at Akebono.