Initiatives in Logistics
An Environmentally Friendly Distribution System
When transporting parts and products, Akebono undertakes various efforts to reduce CO2 emissions and decrease the impact of the distribution process on the environment, such as optimization of transportation and loading methods or changing means of transport to more environmentally friendly ones.
Promoting Safe and Eco-Friendly Driving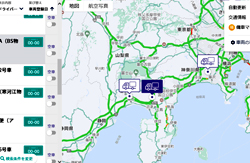 Real-time truck locations and traffic
information is displayed on a large monitor
The Akebono Group member Alocs Corporation (a freight company)is employing a dynamic management system, specifically, a truck operation management system that utilizes data on individual vehicles gleaned from onboard sensors, such as engine speed, driving speed, acceleration rate and location. This data is automatically transmitted to the headquarters in Ai-City via data centers and checked by associates in charge of truck operation management as well as with informing drivers of weather and traffic jams. The Alocs system is able to give timely instruction to each driver so that they can avoid crowded routes and helps to ensure that drivers are taking breaks as needed. In these ways, Akebono is ensuring safe and environment-friendly truck operations.
Moreover, the introduction of this system contributed to an improvement in unit energy consumption for logistics activities. In fiscal 2014, unit energy consumption for these activities decreased 2.5% compared with the previous fiscal year, well surpassing our target of a year-on-year decrease of 1% or greater.

Energy Consumed and CO2 Emitted by Logistics Activities
| | FY13 | FY14 | FY15 | FY16 |
| --- | --- | --- | --- | --- |
| Total traffic volume (10,000 ton kilometer) | 4,957 | 4,932 | 4,720 | 4,212 |
| Consumed energy (kl crude oil equivalent) | 1,205 | 1,170 | 1,112 | 990 |
| CO2 emission volume (t-CO2) | 3,098 | 3,004 | 2,860 | 2,528 |
| Unit energy consumption | 0.243 | 0.237 | 0.236 | 0.235 |
Ensuring Safe Driving Through Check Up of Drivers' Health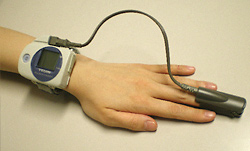 SAS diagnosis
(measuring respiration rate and blood
oxygen level under a fingernail during sleep)
Traffic accidents caused by drivers' ill health, including sleep apnea syndrome (SAS), are becoming a social issue in Japan. Against this backdrop, Alocs Corporation conducts SAS screening for drivers, in addition to semiannual health check ups, to detect early signs of illness and ensure safe driving.