Materiality of Sustainability
Identifying materiality in ESG issues
At Akebono Brake Group, we identify materiality in ESG issues from the perspectives of sustainability and raising corporate value, and use this as a guide for specific initiatives.
In order to contribute to the achievement of the Sustainable Development Goals (SDGs) adopted at the UN Summit, we have identified materiality by extracting materiality elements based on social demands, including respect for the global environment and human rights, the level of interest and requests of stakeholders (customers, suppliers, shareholders and investors, our associates and their families, etc.), and appropriate corporate governance. Materiality will be reviewed periodically through deliberations by the Management Meeting and under the supervision of the Board of Directors.
Mapping materiality in ESG issues
As a result of discussions by the Sustainability Committee, we have established the following materiality map of nine items related to the environment and society, and a governance structure as the foundation for these items.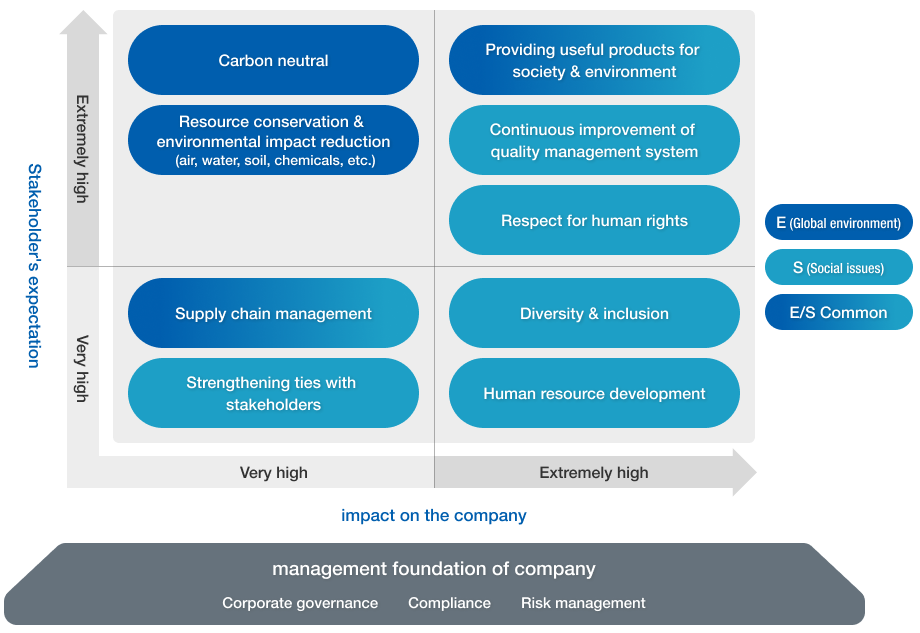 We have established the following vision of materiality in ESG issues and will work to achieve it.
Materiality
Vision
Related SDGs items
Global
Environment
Carbon neutral

Resource conservation & environmental impact reduction
(air, water, soil, chemicals, etc.)
We are committed to reducing our environmental impact and preserving the global environment

50% reduction in total CO2 emissions by 2030 (compared to 2013) (Scope 1 and 2)
Carbon neutral by 2050
Continue to comply with laws and regulations concerning environmentally hazardous substances and to achieve zero violations

Products
and
Services
Providing useful products for society & environment

Continuous improvement of quality management system

Promotion of supply chain management
We will continue production under conditions that ensure the safety and human rights of our suppliers and our associates, and provide products and services that take into consideration the global environment and the safety of our customers.

Meeting the requirements of society and customers in all stages of procurement, production, and product delivery
Providing stable quality through continuous rule-based operations
Sharing our company's materiality (significance) through the supply chain, and mutually promoting human rights, environment, and safety

Social
Issues
Respect for human rights

Diversity management

Strengthening human resource development

Strengthening relationships with stakeholders
Based on the premise of securing human rights throughout the supply chain, we will respect diversity, promote work-life balance through flexible work styles, and foster human resources capable of autonomous learning.

Fulfilling our "responsibility to respect human rights" as required by the Guiding Principles on Business and Human Rights
Creating new value and enhancing corporate value by promoting diversity
Realization of an organization in which each associate can play an active role according to his or her work style
Providing each associate with opportunities for learning and experience, with the aim of developing human resources and building an organization that will continue to support the company's sustainable growth