With Our Associates and Their Families
Akebono is engaged in diversity management with the aim of creating a workplace in which associates with diverse values can develop their potential.
Diversity Initiatives
Diversity Management at Akebono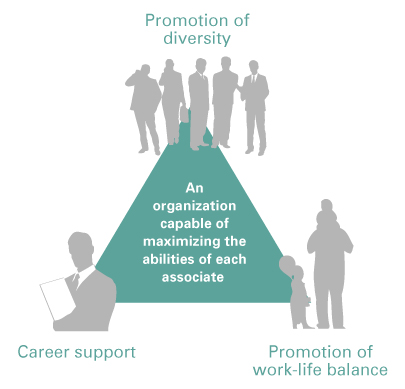 Basic Themes of Diversity Management
Akebono aims to strengthen its corporate capabilities in a way that reflects the high respect it has for the values of each associate and their diversity.
The Company cherishes associates' individual aspirations regarding work and life so that each can develop their creativity in the course of their duties, which, in turn, will help bring about a more vibrant company overall. Akebono is promoting diversity because it recognizes that as it expands globally, it is becoming increasingly important to establish a corporate structure that helps each associate realize their full potential regardless of their value system or cultural background. To further promote diversity, the Company is promoting recruitment activities that target people of all nationalities.
Akebono is promoting diversity management centered on three key initiatives, namely, diversity promotion, career support, and work-life balance promotion.
Diversity Promotion Initiatives
Hiring and Providing a Place to Achieve for a Diverse Work Force
In addition to regular recruitment activities, we conduct mid-career hiring as appropriate to secure human resources with diverse skills and experience. In addition, we hire a diverse range of people regardless of age, gender, background, and other factors. In order to nurture the creative ideas of each individual that form the basis for the vitality of the entire company, we respect each person's unique way of working and living, and provide opportunities for each to play an active role. We will continue to promote the creation of an organization that allows each individual to maximize his or her abilities.
Akebono Receives "L-boshi Designation" for the Promotion of Women's Career Activities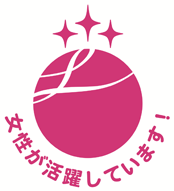 Eruboshi Mark (Grade 3)
Akebono will continue working to be a company where all of our associates can work with motivation and enthusiasm, regardless of gender.
In April 2016, we received the Eruboshi Designation (Third Grade)* from the chief of the Saitama Labor Bureau. The Eruboshi designation system recognizes business owners that have performed excellently in initiatives for promoting the advancement of women from among those who formulate an action plan based on the Act Concerning Promotion of Women's Career Activities and submit the details of the plan. The designation is received from the Minister of Health, Labour and Welfare. There are five evaluation criteria with accreditation between grade 1 and 3 based on the result of the evaluation. Akebono achieved the top rank of Grade 3.
* Official nickname for the designation of the General Business Owner Complying with the Standard based on the Act for Promoting the Advancement of Women.
Promotion of Global Women's Activities
Women's Day in Vietnam
Every year the Akebono Group holds events to support the advancement of women into society.
In Vietnam, Mexico, and Indonesia, Akebono promotes women's advancement through a program called "Women's Day," in which outstanding female associates attend a seminar regarding women's advancement and give gifts to the families of those associates.
In Thailand, in July 2019, a nursing room was established to support associates returning to work after maternity leave, creating a flexible and comfortable work environment for mothers.
In Germany, Akebono participate in Girl's Day events (career support and development for women who will advance to the next generation of research and engineering positions), inviting local female students to the company to gain interest in the auto parts industry through hands-on learning using our products.
Promoting Global Exchange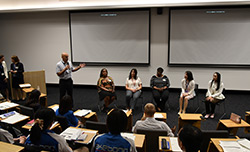 Ai-Forum
While actively accepting interns from overseas, Akebono has also established educational programs that promote interaction between interns and associates to help develop global human resources.
In the "Ai-Forum" held from 2014 to 2017, overseas interns and associates participated in multiple presentations and discussions on the culture and business customs of the countries where Akebono has its locations, fostering diverse and cross-cultural perspectives.
National Origins of Interns (2004 - 2019)
United States, United Kingdom, Italy, India, Greece, Sweden, Austria, Spain, Thailand, Slovakia, Germany, Turkey, France, Finland, Portugal, Mexico, Morocco, Canada, Hungary, Netherlands, Poland, Tunisia, Nigeria, and Russia
* We did not accept interns in 2020 and 2021 due to COVID-19.
Employing People with Disabilities (Akebono 123)
At Akebono 123, we recognize the characteristics (individuality) of each person and utilize their strengths. We are striving to create a workplace where people with disabilities can increase their opportunities through expanded operations, and steadily continue to grow toward independence. Akebono has received certification as a Saitama Prefecture Excellent Employer of Persons with Disabilities for six consecutive years in recognition of its proactive efforts to employ people with disabilities and create a workplace that makes the most of their abilities.
As of the end of fiscal 2021, Akebono's employment rate of persons with disabilities was 2.76%, compared to the legally mandated rate of 2.30%.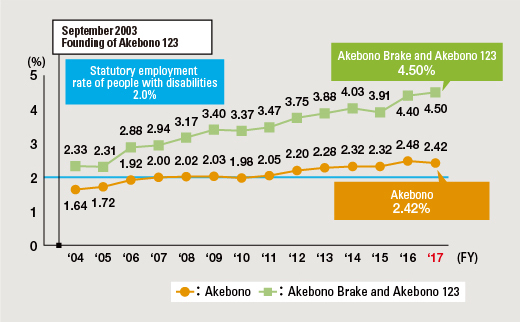 Employment Rate of People with Disabilities in the Akebono Group
Expanding Associates' Work Scope and Supporting Students at Special Education Schools Demonstrating Their Capabilities
Akebono 123 celebrated its 18th anniversary in September 2021.
We started out with 5 associates and only did cleaning work, but gradually expanded our workforce and job areas, and now 26 associates with intellectual disabilities are working at the company.
Currently, we have expanded the scope of work to include business card printing, slip sorting, supply of copy paper, and packaging of parts at the manufacturing site, as well as scanning work from within and outside the group. Since then, we have made continuous improvements and actively promoted development of multi-skilled workers so that associates can work repeatedly without hesitation, and currently 9 associates are in charge of packaging work.
At the work site, the use of photographs, adherence to standard work practices, and innovations to reduce errors have enhanced the skills of associates and expanded the scope of their work, thereby increasing their motivation and contributing to the competitiveness of the Akebono Brake Group as a whole.
Aiming for a diverse, worker-friendly environment (Akebono 123)
Creation of growth opportunities for associates and instructors
(1) In addition to "birthday parties" wihch an associate becomes MC, a darts tournament, which started as a workplace recreation under COVID-19 situation, has been held six times; since the fifth time, voluntary associates have been in charge of planning and operation so that deepen communication has been realized.
(2) In addition to the revision of 112 cleaning manuals, 80 manuals for packaging operations were revised with pictures for easy understanding. This is still ongoing.
(3) Call for mottoes with the participation of all associates and commendation of excellent works
- National Safety Week motto: 62
- National Health Week motto: 35
4) "An award I want to give myself" to all associates on the anniversary of the company's founding.
Human Resource Development and Satisfaction Improvement Initiatives
(1) Human Resource Development
- Training for appointment as chief instructor and leader
- Strengthening and visualization of associate support system by promoting multi-skilled workers
(2) Review of compensation system
- Continuous improvement of compensation for the future
Initiatives in Career Support
Career Support Activities
As part of Akebono's diversity promotion, we provide training and career support to enable each and every associate, regardless of age or gender, to choose and realize their own career path. For example, "Ai-Campus" is an educational curriculum open to all associates allowing them to choose courses to acquire the knowledge and skills necessary for their work. For example, in the third and seventh years of employment, training is held to broaden the scope of each associate's career and future vision, while for managers, the curriculum is enhanced to provide the knowledge and skills necessary for management and to advance their careers through interviews with executives. In addition, we have switched from the traditional face-to-face format to one that can be held remotely. The seminars include issues and matters to be considered for each age group and encourage participants to think about these issues on their own.
Promoting Work-Life Balance
Aiming to realize diverse work styles for each associate, Akebono has established a variety of systems to support associates in balancing work with childcare and nursing care in various ways.
A career partner system has been introduced to provide associates with reduced working hours (up to two hours per day) for childcare or nursing care, a leave system, and opportunities to return to work for associates who have left the company due to family reasons such as childcare, nursing care or a spouse's overseas transfer.
In response to the revision of the Child Care and Family Care Leave Law, we will continue and improve various systems to enable both men and women to balance work and childcare, including the establishment of a paternity leave program.
In addition, we will respond to various changes in the social environment throughout the company and promote the creation of a workplace environment that allows associates to choose and realize diverse and flexible work styles.
Akebono Nursery School Ai-Kids
Akebono Nursery School Ai-Kids, an on-site childcare center that opened in 2018, was established as part of work style reforms to enhance benefits for associates, and to contribute to the local community. Based on the philosophy of "grow together," in which their families and caregivers share the joys and worries of childcare, Ai-Kids watches over the growth of each child and supports associates in balancing childcare and work.
Ai-Kids also provide warm "family-style childcare," which is possible only because of the small class size, nurturing children to be "considerate," "kind," and "persevering".
Child-rearing Information Exchange Session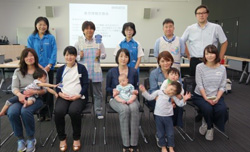 Twice a year, Akebono holds a "Child-rearing Information Exchange" session for pregnant associates and those on childcare leave. It serves to strengthen the connection between the company and its associates by sharing the latest company news and topics as well as prepare associates for a smooth transition back to work through an understanding of the company's childcare system and the exchange of information among employees. Both male and female associates participate in these sessions.
Akebono received the "Kurumin" mark for the third time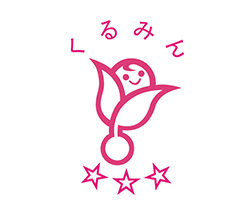 Kurumin Mark
Akebono has been certified by the Saitama Labor Bureau as a "Company Supporting Child Raising" under the "Law for Measures to Support the Development of the Next Generation" and has acquired the "Kurumin" mark, a certification mark for supporting the development of the next generation, a total of three times in November 2007, June 2013 and October 2016.
We will continue to make efforts to create a comfortable working environment for everyone, such as by promoting further improvement in the rate of male associates taking childcare leave.
Going forward, we will also implement forward-thinking initiatives with an eye to future issues, thereby securing a corporate structure responsive to issues and changes in the social environment. To create a working environment that offers diverse and flexible working styles, we will continuously enhance these programs by incorporating feedback from associates.
Akebono's Main Initiatives (Japan)
Akebono's Main Initiatives (Japan)
Child care leave plan
Associates can take leave until the March after the child's third birthday while receiving aid. This can be taken in multiple parts.
Note: Akebono has a child care leave plan that exceeds legal standards.
Career partner plan
A program that provides those who left the Company due to family duties with opportunities to later rejoin Akebono within five years after their resignation. Eligible associates include those who had served for a continuous period of three years or more before leaving and meet other prescribed criteria.
Nursing care leave plan
Associates can take up to two years leave per family member to provide nursing care while receiving a stipend
Child nursing care plan
Associates can take up to five days of leave per year (ten days for associates with two or more children) to nurse sick or injured children or for children's doctor visits until the child graduates from elementary school. This leave is separate from annual paid leave.
Measures to reduce working hours
<Child care plans>
- Reduced working-hours plan: Associates can use the system multiple times until children graduate from elementary school.
- Flex time plan
- Child care aid plan: A fixed monthly aid until the March following the child's third birthday
<Nursing care plans>
- Reduced working-hours plan: Associates can work reduced hours for a total of up to three years per family member to provide nursing care. These can be taken in multiple parts.
- Flex time plan
Improvements to company environment

- Training for new managers regarding the need to consider employees' balance of work and home life.
- Provision of useful information for balancing work and home life through pamphlets and the Intranet.
- Akebono Visit Day was held each year during children's summer holidays to give associates' families a chance to visit the workplace.

Medical leave system
Associates receive 12 days of medical leave per year in addition to their annual paid vacation, so they can recuperate from unforeseen illness or injury without worrying about work.
Work interval plan
Ensure that long working hours are rectified, and associates get sufficient rest time by leaving 11 hours free from the end of work to the start of work on the next day.