With Our Associates and Their Families
Occupational Safety and Health
Occupational Safety and Health Management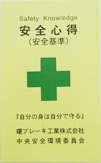 "Safety Knowledge" booklet
To improve our global safety and health management capabilities, we hold regular global safety workshops at all our production locations throughout the world.
In Japan, Akebono has established a management system centered on the Central Safety Environment Committee. Through this system, we strive to ensure the safety and health of associates with the aim of identifying and reducing various risks related to our operations, including prevention of disasters, accidents and other emergencies. Placing the utmost emphasis on securing the safety of our personnel, we distribute a booklet summarizing important safety issues to all associates to raise their safety awareness, as well as provide regular opportunities to learn about safety starting from the fundamentals.
Initiatives in Each Location
Akebono maintains a disaster prevention system based on our business plans. We also established business plans, mainly through the BCM Promotion Office, to ensure production continuity at the time of earthquakes and other natural disasters.
Global Head Office Disaster Prevention System (Nihonbashi Building, Tokyo)
With the building being equipped with seismic isolation devices and power generators that can provide electricity for 72 hours, and the boardroom having a fire suppression control panel and emergency broadcast microphone installed, the head office can function as an emergency control center in case of a disaster.
Emergency Drills and First Aid Training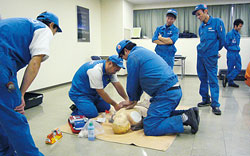 Resuscitation training at Akebono Brake
Yamagata Manufacturing Co. Ltd.
At Akebono we regularly carry out emergency drills and first aid training.
During emergency drills, we conduct evacuation and firefighting drills, as well as earthquake simulation and smoke simulation sessions to provide opportunities to experience disaster conditions and reduce damage.
In addition, under the guidance of the fire department, we conduct emergency resuscitation training and seminars, including how to use an AED.
However, from 2020 to 2021, due to COVID-19, the scale of the training and number of participants were reduced, and trainings involving human contact were cancelled.
Corporate Driving Safety Seminars
As a company that provides safety to society, Akebono conducts a driving safety session to prevent traffic accidents involving its associates.
Response to the Problem of Asbestos
Well ahead of other Japanese companies, Akebono began the development of asbestos-free products in the 1970s. Not only did we lead the field in completing the transition to asbestos-free OEM friction products for new cars by 1992 and commercial vehicles by 1994, we have not manufactured service parts containing asbestos since 2000.
Regarding the lawsuit filed by former associates and bereaved families on November 28, 2012 seeking compensation for asbestos related health damages, a settlement was reached on December 25, 2015.