With Communities
To show our appreciation of local communities and to further deepen the understanding of the Akebono Group's business, we proactively undertake initiatives that contribute to society.
In line with Akebono's Corporate Mission, as members of society, our associates continue to take steps to maintain and expand these initiatives.
Providing Secure Employment and Nurturing Future Generations
Offering Office and Plant Tours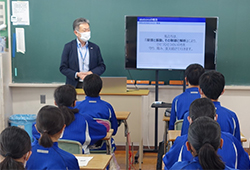 Akebono explanation session
in a classroom (FY2021)
To prevent the spread of COVID-19, since 2020, we have stopped accepting social study facility tours by elementary and junior high schools in Saitama Prefecture, which had been conducted annually. Instead, we minimized the risk of COVID-19 transmission by having associates visit schools to explain Akebono in a classroom-style setting. Other community activities, including voluntary community cleanups and community "greening," which were conducted twice a year, were done by a minimum number of Akebono associates.
At each manufacturing site, the frequency of such activities was reduced by around two-thirds in FY2021 to minimize the risk of transmission: plant tours (5 tours, 134 people), volunteer cleanup activities (5 times, 50 people), and greening activities (cancelled).
Looking beyond COVID-19, we will continue to promote initiatives that enable us to learn and grow together with the company and local communities, inside and outside Japan, while paying close attention to the spread of COVID-19.
Donations to Families of Traffic Accident Victims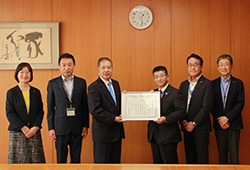 Received a letter of appreciation
from Mayor of Hanyu city (FY2021)
Akebono has made donations to organizations in the municipalities where our manufacturing sites are located that support people who have lost parents in traffic accidents, as well as to a special foundation set up in Japan that provides them with scholarships. A total of 10.45 million yen was donated to Sagae in Yamagata Prefecture, Saitama City and Hanyu in Saitama Prefecture, Tatebayashi in Gunma Prefecture, Koori-machi in Fukushima Prefecture, Soja in Okayama Prefecture and the aforementioned scholarship foundation. This amount was paid out of donations from managers and an executives' social fund. The donations helped support children who have suffered greatly from traffic accidents, and we have received words of thanks from each municipality.
Designated as an Excellent Employer of People with Disabilities by Saitama Prefecture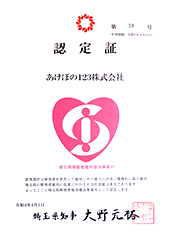 Saitama Prefecture Excellent
Employer of People with
Disabilities Certificate
Since 2007, Akebono 123 has been continuously designated as an Excellent Employer of People with Disabilities by Saitama Prefecture. This award recognizes businesses who have proactively hired a large number of people with disabilities to promote the employment of people with disabilities and provide them with stable occupations, as well as organizations or individuals who have contributed to promoting the employment of people with disabilities and providing them with stable occupations over many years.
Akebono 123 Associates Receives Outstanding Worker with Disabilities Award
In 2021, two Akebono 123 associates received the Saitama Employment Development Association Chairman's "Outstanding Worker with Disabilities Award," though the award ceremony at the Saitama Governor's Mansion was cancelled due to the declared state of emergency because of COVID-19.
On September 15, the Secretary General of the Saitama Employment Development Association, came to our office to present the awards.
The award is given to employees who have been trusted by their colleagues and others in the workplace as exemplary professionals for many years.