AKEBONO REPORT (Integrated Report)
AKEBONO REPORT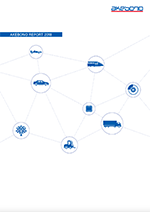 In 2002, Akebono began preparing and disclosing an annual Environmental Report, and from 2005, the Company started issuing an Environmental & Social Report that also included social activities. In 2009, we upgraded this publication to create the AKEBONO REPORT, a publication presenting multi-faceted information that goes beyond the typical operating results and financial statements included in a conventional annual report.
The AKEBONO REPORT 2018, issued in June 2017, presents various company initiatives from the standpoint of ESG (Environment, Society, and Governance) and SDGs. We hope this will help you understand the business we are promoting with the aim of sustainable growth.
In preparing this edition, we referred to the Guiding Principles set forth by the IIRC as well as the Global Reporting Initiative Sustainability Reporting Guidelines (G4) and ISO 26000.
AKEBONO REPORT 2018
Download all pages (PDF/e-book)
Download in multiple parts (PDF)
AKEBONO REPORT 2018
P1 ? 2
Contents / akebono's Corporate Mission / akebono's Declaration for the 21st Century / Corporate Goals / Editorial Policy / Reporting Period / Organizations / Definition of Fiscal Year
?60 KB
Message
P3 ? 4
Top Message
?145 KB
About Akebono
P5 ? 6
Akebono's Journey
?267 KB
P7 ? 8
Akebono 2018
?107 KB
P9 ? 10
Product Introduction
?370 KB
P11 ? 12
Basic Principles of Brakes
?489 KB
P13 ? 14
Global Expansion
?1,379 KB
Medium- to Long-Term Growth Model
P15 ? 16
Overview of Sustainability Management
?546 KB
Expand into Next-Generation Technology
P17
Next-Generation Friction Materials
?132 KB
P18
Next-Generation Electro-Mechanical/High Performance Brakes 1:
Next-Generation Brakes
?135 KB
P19
Next-Generation Electro-Mechanical/High Performance Brakes 2:
High Performance Brakes
?154 KB
P20
Sensor Technologies
?733 KB
E: Initiatives to Reduce Environmental Impact
P21
Environmental Management
?112 KB
P22
Initiatives in Purchasing
?167 KB
P22 ? 23
Initiatives in Production
?326 KB
P23
Initiatives in Logistics
?193 KB
S: Strengthen Ties with Stakeholders
P24 ? 27
Human Resources and Diversity
?311 KB
P28 ? 29
Together with Local Communities
?291 KB
P29
Providing Safety and Security
?147 KB
P30
Initiatives to Raise Corporate Value
?83 KB
G: Corporate Value Improvement through Stronger Governance
P31 ? 34
Corporate Governance System
?101 KB
P35
Management Systems
?75 KB
P36
Conversation with the President and Outside Director
?115 KB
Review of Operations
P37 ? 38
Financial and Non-Financial Highlights
?79 KB
P39 ? 41
Progress of akebono New Frontier 30 - 2016
?92 KB
P42
Review of Operations
?79 KB
P42 ? 44
Review of Operations by Region (Japan / North America / Europe / Asia)
?155 KB
Corporate Information
P45
Directors and Officers
?141 KB
P46
Company Outline / Investor Information
?86 KB
P47 ? 48
Akebono Locations
?53 KB
Data Book 2018 Download (PDF)
Data Book 2018
(11pages)
Data Book 2018 (PDF Download All pages)
?733 KB
P1 ? 3
CSR Promotion Status (fiscal 2017)
?305 KB
P4 ? 5
Environmental Targets for Fiscal 2017 and Results Achieved
?131 KB
P6 ? 10
Environmental Data by Location (main domestic Group members)
?264 KB
P6
Akebono Brake Yamagata Manufacturing Co., Ltd.
?77 KB
P7
Akebono Brake Fukushima Manufacturing Co., Ltd.
?77 KB
P8
Akebono Brake Iwatsuki Manufacturing Co., Ltd.
?77 KB
P9
Akebono Brake Industry Co., Ltd.
?71 KB
P10
Akebono Brake Sanyo Manufacturing Co., Ltd.
?72 KB
Back Numbers