With Our Customers
"Customer Needs First" is Akebono's policy of excellence in everything we provide, from engineering development, design and production, to sales and services. We continuously work to enhance and refine our quality, technology and service to improve customer satisfaction.
Supporting Our Customers
The Mobile Brake Technology Educational Center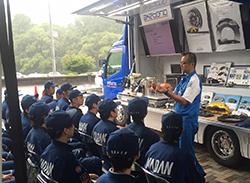 The Mobile Brake Technology Educational Center
More than 200 training sessions are held each year employing the "Mobile Brake Technology Educational Center," a vehicle specially designed to display braking mechanisms in an easy-to-understand way to auto dealers, automobile repair shops and others nationwide to teach car salesmen and auto mechanics about the structure of disc and drum brakes. Points about brake maintenance and market activities are explained using samples and images taken from actual vehicles. Attendees' knowledge and technical skills concerning brakes are deepened and their feedback and comments are later reflected in product development. To make customer safety and comfortable driving a reality, we provide training on brake maintenance at brake servicing sites.
Since 2012, Akebono has provided lectures on brake technology as part of courses at car maintenance schools and schools for aspiring auto mechanics. The shortage of auto mechanics is becoming a social issue and we will continue these classes to support their education.
In addition, we are also active in conducting associate training, tours for elementary school students, participating in local community events, and more.
From 2020, we have also begun to develop online training sessions and video distribution in consideration of the environment caused by the COVID-19 pandemic.
Akebono Products Garner Praise around the World
PT. Akebono Brake Astra Indonesia (AAIJ) Wins Customer Improvement Contest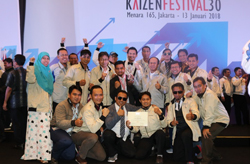 The Toyota Kaizen Festival
AAIJ has undertaken a companywide initiative to make various improvements with the aim of enhancing the skills and abilities of each associate and for the Group as a whole.
The annual QCC Kaizen Festival was held in January 2018 hosted by TMMIN (PT. Toyota Motor Manufacturing Indonesia) and their cooperative procurement body, the Toyota Manufacturers Club. Two teams from AAIJ exhibited. Team TRANSFORMERS, comprised of AAIJ engineers, presented improvement initiatives to increase four-wheel assembly line capacity and won the grand prize. At this event 150 TMMIN suppliers leveraged the results of their everyday QCC (Quality Control Circle) efforts against one another in competition and from among them, 56 teams were selected to exhibit.
While continuing to refine skills and abilities, AAIJ aims to become a truly global supplier out of Indonesia.
Akebono Brake Corporation(ABC)products received "Best Problem-Solver for Import Vehicles"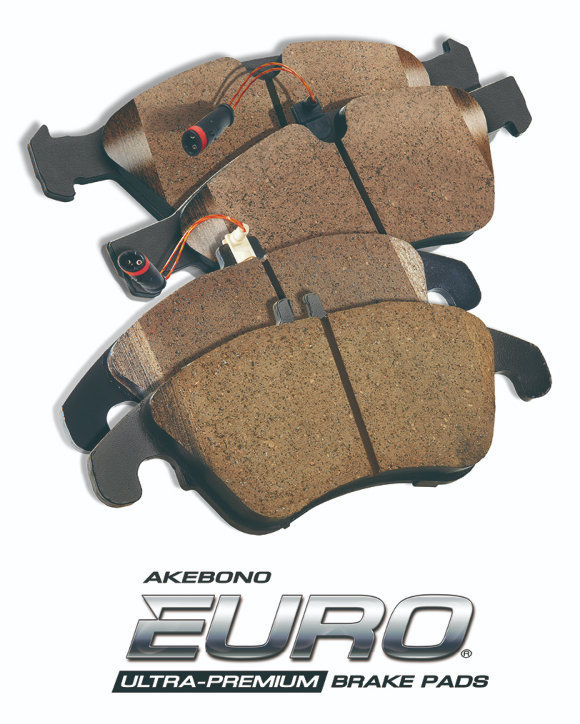 EURO® Ultra-Premium ceramic
disc brake pads
Akebono Brake Corporation won the "Best Problem-Solver for Imported Vehicles" award at the Imported Vehicle Community, Product and Marketing Awards held at AAPEX in Las Vegas, Nevada in November 2021, following the Best Imported Aftermarket Product award it won in 2019. The winning product is the EUROR Ultra-Premium Ceramic Disc Brake Pad for 2012-2021 BMW sedans and coupes with Blue Caliper/Performance Brake Packages, manufactured and marketed by Akebono Brake Corporation for the US market. This product is designed for European vehicles and delivers the high braking performance, control and smooth braking feel expected of European vehicles. In addition, the pads offer the highest level of performance in terms of reducing noise, vibration, and harshness, all of which can be problems in braking, as well as significantly reducing brake dust to prevent wheel contamination. In addition, the pad is environmentally friendly by minimizing copper content to comply with the chemical regulations in effect in some US states. We will continue our commitment to performance and quality to continue to grow as a brand trusted by our customers.