Dec 2, 2011
Announcement of Akebono Product Exhibit at the "42nd Tokyo Motor Show 2011"
Akebono Brake Industry will exhibit products at a booth during the 42nd Tokyo Motor Show 2011 that will be held at the Tokyo Big Sight (Open to Public: Saturday, December 3 - Sunday, December 11).
At this year's Tokyo Motor Show, in addition to brake systems for racing such as the brake calipers that Akebono supplies to the Vodafone McLaren Mercedes F1 team and the brake calipers developed for the MP4-12C GT3 car for FIA GT series racing, Akebono will also exhibit products such as electro-mechanical service brakes that are being developed for the next generation.
In addition, to further pursue its unique identity as a dedicated brake manufacturer, Akebono Brake Industry is currently undertaking a project that integrates technology that Akebono has cultivated over many years into new brake caliper designs. As a result, the company developed a concept brake caliper in collaboration with industrial designer Ken Okuyama, which will also be exhibited at this year's show.
Please see the following information for a general overview of the exhibit including details on the main products that will be displayed.
We look forward to seeing you at the show.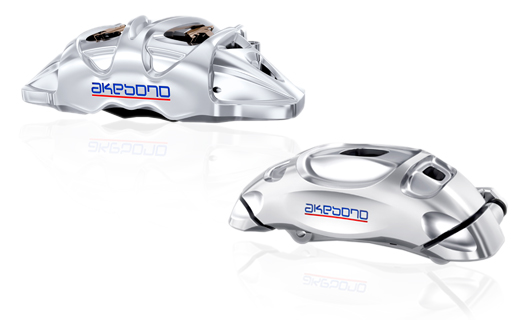 Concept Brake Calipers