Oct 3, 2012
Announcement of Akebono Product Exhibit at the "Paris Motor Show 2012"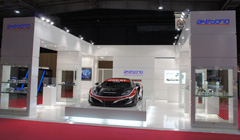 Akebono Brake Industry will exhibit products at a booth during the Paris Motor Show 2012 that will be held in Paris, France (Open to Public: Saturday, September 29 - Sunday, October 14).
At this year's Paris Motor Show, in addition to brake systems for racing such as the brake calipers that Akebono supplies to the Vodafone McLaren Mercedes F1 team and the brake calipers developed for the MP4-12C GT3 car for FIA GT series racing, Akebono will also exhibit products such as electro-mechanical service brakes that are being developed for the next generation.
Please see the following information for a general overview of the exhibit including details on the main products that will be displayed.