Jun 13, 2013
Toyo System Hosts Lexus LFA Test Drive Experience Event at Ai-Ring
A test drive experience event for the super sports car Lexus LFA was held at Akebono's Ai-Ring test course (in Iwaki City). The event was Sponsored by Toyo System of Iwaki City, Fukushima Prefecture, with support from Toyota Motor Corporation and Akebono Brake Industry.
This test drive experience was planned by Toyo System with the goal of inspiring young people affected by the Great East Japan Earthquake to have dreams and hopes for the future. The event was held for the first time last October, and with the aim of continuing to support young people, the event was held for a second time on June 8.
Six limited production Lexus LFA vehicles, of which there are only 500 worldwide including 165 in Japan, were gathered at Ai-Ring where 135 local middle school, high school, vocational school, and college students from Fukushima Prefecture were able to experience high-speed laps around the course in the passenger seat of a Lexus LFA driven by a professional driver.
The event also featured a talk show hosted by car essayist Ms. Yumi Yoshida with guests Mr. Haruhiko Tanahashi, development director of the LFA, and Mr. Akira Iida, a former LFA development driver. Iida also put on a driving performance show that drew loud cheers from the students who were able to witness up close a pro race driver in action. Akebono also brought its brake technology training tour vehicle and held a training session on brakes for the students.
With a site area of approximately 760,000 m2 and a lap length of 3,016 m, Ai-Ring is Japan's largest test course among Japanese auto parts manufacturers. Possessing various road surfaces including a high-speed circuit, Ai-Ring accommodates a wide range of vehicle brake testing. Although the test course suffered heavy damage from the Great East Japan Earthquake in March 2011, repairs primarily for the high-speed circuit have been completed. On November 29, 2012, the course's name was changed from Proving Ground to Ai-Ring and an opening ceremony was held.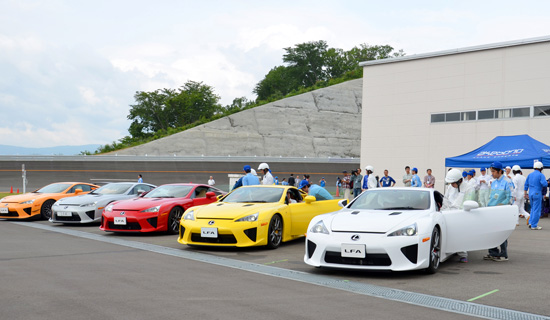 Lexus LFA test drive experience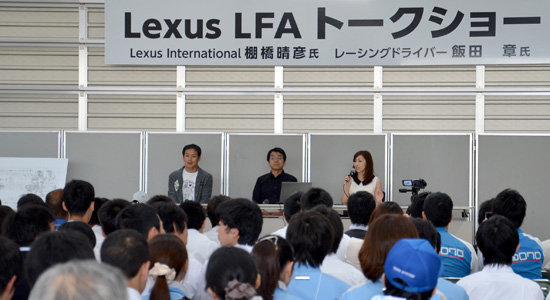 Lexus LFA talk show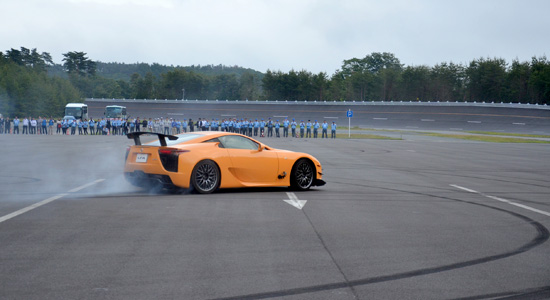 Driving performance by race driver Mr. Akira Iida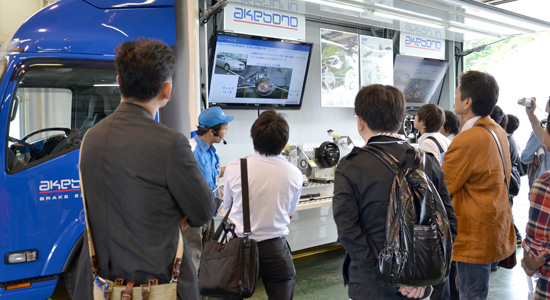 Brake training session with brake technology training tour vehicle