Oct 21, 2013
Akebono Brake Receives Kurumin Mark Recognizing Support for the Next Generation as a Company that Supports Child-raising Parents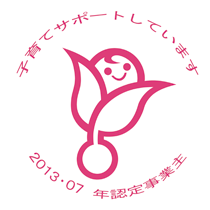 On June 24, 2013, Akebono Brake Industry received the Kurumin mark from the Saitama Labor Bureau, recognizing it as company that actively supports child-raising in accord with the Act on Measures to Support Development of the Next Generation. The Kurmin mark is awarded in recognition of efforts to support and nurture the next generation. This is the second Kurumin mark that Akebono has received, its first coming in November 2007.
The Act on Measures to Support Development of the Next Generation, which took effect in April 2005, requires companies with 101 employees or more to systematically institute measures to create an environment that readily enables employees to balance work and child-raising, and to formulate an action plan to guide those efforts. Companies that fulfill certain requirements, such as achieving the goals laid out in the action plan, are recognized by the Ministry of Health, Labour and Welfare as companies that support child-raising and permitted to use the Kurumin certification mark.
Akebono's wide array of programs surpass the legislated standard, allowing associates to take parental leave days until the fiscal year following their child's third birthday, for instance. It also uses leaflets, internal news bulletins and information sessions to create an environment in which associates can easily take advantage of these schemes. Beyond these internal efforts, Akebono also runs social studies excursions and participates in Saitama Prefecture's Wakuwaku Factory Discovery Tour for local elementary students, and these efforts were also recognized.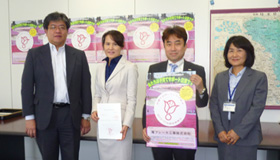 Akebono received its certification from Masahiko Shirota, Director of the Saitama Labor Bureau, at the award ceremony held by the Saitama Labor Bureau on October 17. At a round-table session following the ceremony, representatives from each recognized company and their employee support officers exchanged views and insight on their efforts to acquire the Kurumin mark, initiatives to support both work and family life, and the endeavors of women in the workplace.
Akebono will again formulate an action plan this fiscal year, contribute to regional society and strive to support associates who balance work and child-raising, and thereby create an environment in which all associates can thrive.
Major goals achieved
1. One male associates and 85.7% of female associates took childcare leave (does not include female associates on maternity leave).
2. We instituted more diverse employment conditions/environment by enhancing nursing care-related schemes, providing information on the various schemes available, issuing internal news bulletins, running information sessions for personnel in management positions and higher, etc.
3. We held family visit day events for associates' children and family members, company-site excursions for elementary students.
4. In line with a company policy of promoting diversity and work-life balance, we widely disseminated information (e.g., via business reports, our website) in the aim of enhancing internal arrangements that facilitate diverse work styles.