Feb 3, 2014
Ai-City (Head Office) Certified as Top-Level Facility Among Excellent Large-Scale Business Facilities Under Saitama's Cap-and-Trade Emissions Trading System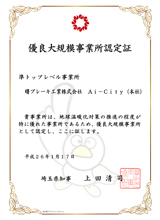 Since fiscal 2013, Ai-City (the Head Office) of Akebono Brake Industry Co., Ltd. has been certified as a Top-Level Facility -- Semi-Top-Level Office, in the Excellent Large-Scale Business Facility category, under Saitama Prefecture's cap-and-trade emissions trading system.
Akebono considers global environmental problems to be a top-priority management issue. Accordingly, the company works to protect the environment on a global scale through environmentally efficient business activities, taking into account reduction of CO2 emissions, recycling of industrial waste, and conservation of energy and resources.
After Saitama Prefecture stipulated the Certification System for Excellent Large Business Facilities in April 2011, Ai-City was certified as a Quasi-Top-Level Facility in the Factory section. Subsequently, in fiscal 2013, it was certified as a Top-Level Facility in the Office section, which is subject to even stricter assessment. Among the 561 eligible business facilities in Saitama, only Ai-City (Head Office) has been certified as a Top-Level Facility. This certification of Akebono reflects the company's outstanding approach to energy conservation and its advanced systems for facility management, maintenance, and operation, extending back before the new certification system started.


About Saitama Prefecture's Certification System for Excellent Large Business Facilities
Eligible facilities: Large business facilities (with energy usage, converted to crude oil equivalent, of at least 1,500 kl for three consecutive years)
Excellent Large Business Facilities: Large business facilities with especially outstanding progress in measures against global warming
Top-Level Facilities: Offices, research institutes, government agencies, large retailers, hotels, schools, hospitals, etc.
Quasi-Top-Level Facilities: Factories, water supply facilities, waste treatment facilities, etc.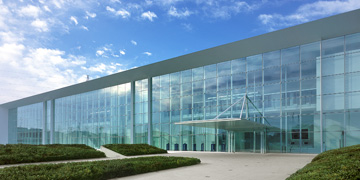 Ai-City (Head Office)