Oct 27, 2017
Akebono's products used in new Polestar 1
Tokyo, Japan - (October 27, 2017) - Akebono Brake Industry is pleased to announce that akebono's 6-pot calipers and disc brake pads are used at the front of Polestar 1 which is the Electric Performance Hybrid coupe of Polestar, Volvo Car Group's performance brand.
The disc calipers which are supplied to Volvo are 6-pot aluminum mono block opposed calipers developed for high-end and high-performance vehicles. With akebono's high performance pads, the front brakes provide superior stopping performance at high speed, under severe load and high temperature, along with comfort which is required for premium vehicles.
"It is honor for us that our product was introduced as one of four appeal points of the Polestar 1 at the launch ceremony. We will make the best effort to supply high performance and high quality products to Polestar," Hisataka Nobumoto, Chairman, President & CEO, Akebono Brake Industry Co., Ltd. commented.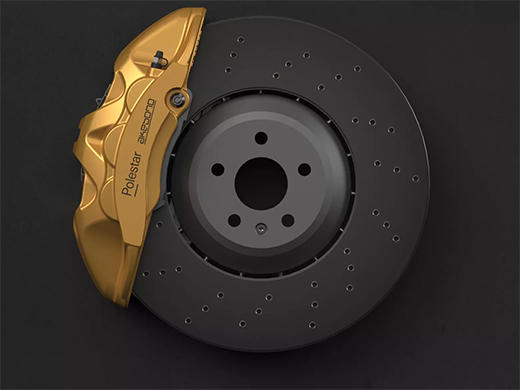 6-pot aluminum mono block opposed caliper
*All trademarks are the property of their respective owners.
# # #
About Akebono Brake Industry Co., Ltd.
Akebono Brake Industry Co., Ltd. (TSE:7238), founded in 1929, is a world leader in advanced brake and friction material development and production. The Akebono Group operates R&D centers and manufacturing facilities worldwide, such as in Japan, the United States, Europe and Asia. Akebono has been supplying and jointly developing brake systems with the McLaren Formula 1 team since 2007.
For more information, visit www.akebono-brake.com/english/index.html.