Mar 5, 2013
Akebono Reveals the Details of the Brake System Adopted by McLaren's P1™ Ultrahigh Performance Road Car
Tokyo - (March 5, 2013) - Akebono Brake Industry Co., Ltd. (Akebono) has announced a general description of its renowned brake system, including brake caliper, pad and disc components, for the P1TM, an ultrahigh performance road car unveiled by McLaren at a press conference on the first press day (March 5) of the 83rd International Geneva Motor Show. On February 26, 2013, Akebono announced plans to supply the brake system to McLaren's P1TM.
About Akebono's Brake System
A brake system designed with the same braking performance and capability of the GT3 or Le Mans sports racing cars was adopted in the P1TM, and the performance of that system is a step ahead of any 'supersports' car sold today. Developed specially by McLaren's Grand Prix racing partner Akebono, the brake system features a new type of carbon ceramic disc, never before used on a road car, but which has undergone some of the most demanding and extreme testing.
Prior to being used on the McLaren P1TM and Grand Prix race cars, this carbon ceramic material was first used in a space rocket program because of its advanced heat-resistant qualities. Stronger than conventional carbon ceramic, the material dissipates heat more effectively, and can absorb 50 percent more of the energy than the carbon ceramic used in McLaren 12C.
Both friction surfaces of the carbon ceramic discs are infused with silicon carbide, one of the hardest substances on earth. As a result, superior braking performance can be exhibited and an attractive mirrored finish is achieved.
Akebono applied Grand Prix racing technology and focused on every aspect of the brake system including materials, structure and surface processing in order to ensure optimal performance. These efforts resulted in a highly reliable and efficient brake system that boasts of significantly reduced weight, exceptional cooling capability, and the ability to withstand high temperatures and maintain rigidity and efficiency.
In extreme conditions, such as high-speed track driving, the discs can run at temperatures of roughly 150°C higher than conventional carbon ceramic. As a result of the discs being able to operate at higher temperature, they can be developed with a smaller, lighter weight design than would normally be required. The sizes of the brake discs adopted by the P1TM are 390mm at the front and 380mm at the rear.
The custom brake pads for the McLaren P1TM were produced in conjunction with McLaren and are mounted in Akebono's aluminum monoblock opposed calipers, with 6 pistons at the front and 4 pistons at the rear. In addition, Grand Prix racing technology was also utilized to both deliver a lighter weight and minimize drag, two seemingly incompatible performance elements.
The braking system was developed exclusively to meet the exacting requirements of the McLaren P1TM, both in terms of performance and weight. Performance of the system is similar to the brake system of a Le Mans racer, meaning that the braking system enables the McLaren P1TM to stop at close to 2G while also offering a weight savings of 4kg. "Most 'supersports' cars can suffer during braking on really fast circuits such as Le Mans, Silvertone or Monza," said McLaren Chief Test Driver Chris Goodwin. "It's because they just don't have enough downforce. The McLaren P1TM has superb stopping power because of a braking system which works in conjunction with the downforce being produced."
Comment from President and CEO Hisataka Nobumoto
Akebono formed a collaborative relationship with the Vodafone McLaren Mercedes team in 2007, and since then, we have developed and refined brake technology for the word's most extreme motorsports. An Akebono brake system was adopted in the McLaren 12C GT3 custom race car for FIA GT series racing, and now the adoption of an Akebono brake system in the much-awaited and recently unveiled McLaren P1TM ultrahigh performance road car, in which McLaren has incorporated cutting-edge technology, is a great honor to us as we strive to become the world's top brake manufacturer, and we are very proud. At Akebono, we have positioned 'technology differentiation for the future' as one of our priority themes, and we have made preparations to launch business for high performance fleet cars. Providing the brake system for the P1TM is the first step in that effort. Moving forward as well, we will strive to further expand business by continuously developing cutting-edge technology.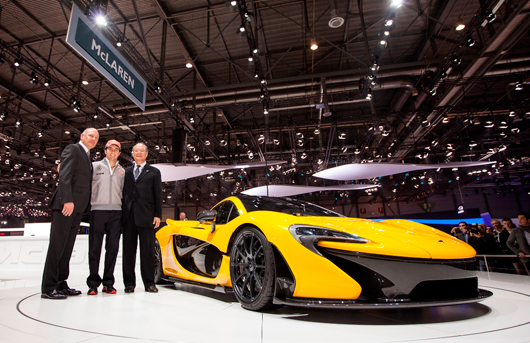 The 83rd International Geneva Motor Show